Asia Tatler: Aman Hotels is Expanding Its Empire – Vladislav Doronin Shares Why and How
[Aisa Tatler, Kissa Castañeda] Since he acquired Aman Resorts and Hotels seven years ago, Vladislav Doronin has sought to expand its exclusive universe, which delights a die-hard fanbase the world over. But is there a risk to being everywhere?
It was a freezing day in New York City in March when I spoke to Vladislav Doronin, chairman of Aman Hotels and Resorts, who had arrived there in preparation for the opening of Aman New York, the brand's second city- centre hotel after Tokyo and one of four urban properties housing its Aman-branded residences.
The past seven years have been a whirlwind for Doronin, who acquired Aman in 2014. At the time it was considered something of a controversial takeover, with bickering among creditors and investors. Since then, the 58-year-old Russian businessman and international real estate developer has made his own imprint on the brand, implementing changes that have raised the eyebrows of seasoned hoteliers and the global jet-set alike.
Doronin first encountered the brand on a visit to Amanpuri in Phuket, Thailand in 1990. He was so impressed by the space, the privacy, the peace and the service that he began planning his travels around places where there were other Aman resorts, in remote corners of Java, Indonesia; Rajasthan, India; and Bhutan, following the path of other hotel loyalists, who call themselves "Aman Junkies".
Aman is legendary in the travel industry for having the highest repeat rate of any hotel brand in the world. "I love to travel: I revel in discovery. This is my passion and the reason why I left my country because Russia at the time was closed," he says.
URBAN BEAT
Doronin has moulded the hospitality brand in his image, with an eye for expanding into new markets, a push into developing residences and a greater focus on promoting wellness. To some old-money customers, these avenues appear in contrast to the subtlety bordering on invisibility for which the Aman brand was once known, but Doronin's formula has certainly brought a fresh perspective and a new, younger and less discreet audience into the fold.
"Before I owned Aman, I always wanted to have them in cities," he says. "One of my first goals was to apply exactly what we had in our resorts, but instead of it existing horizontally, it's vertically."
The idea came to life in Aman Tokyo, its first urban property, boasting spacious rooms, a 2,500 sq m spa, a 30-metre pool, a cigar lounge and several restaurants. It's Doronin's favourite property in the portfolio.
"It's important to understand that with only 84 rooms, Aman Tokyo is a relatively small boutique hotel compared to other luxury brands around, and it has plenty of amenities and space for every guest. People ask me why we have a soaring, 30-metre- high lobby when I could've used that space for something else. But this is Aman's core: we are generous with space," he says.
He claims it's the only place where he can sleep more than nine hours straight. "I feel Japan and Aman's DNA are the same," he says. "Moreover, the Japanese are among our most loyal clientele." Aman has plans to open more residences in Tokyo, a new property in Niseko, and one of the first locations for Aman's new sister brand, Janu, launching in 2023, its point of differentiation being that it is livelier and community-driven, offering "wellness with fellowship".
LANDMARK INITIATIVE
The biggest test of whether Doronin's direction truly resonates with consumers today is Aman New York, which opens this summer. Located on the corner of Fifth Avenue and 57th Street, the hotel and residences are housed in the iconic Crown Building built in 1921. He has spent a princely sum, US$1.3 billion, to renovate and reposition this landmark as the best luxury hotel in the world.
"You can build a lot of skyscrapers—and I have done so in many of cities—but this is irreplaceable," he says. With 83 rooms and 22 apartments, Aman New York will feature a private members' club, a wine library, a jazz club, a cigar bar spanning two floors, and a 2,300sqm spa.
With more hotels and residences in the pipeline—among them Mexico and Miami—the delicate balance of creating demand without compromising Aman's mystique is a challenge and a risk. The last seven years have resulted in 15 new and planned properties in eight destinations, including Saudi Arabia; the rate of growth has been almost double what it was pre-acquisition when the brand built roughly one hotel annually.
Everybody thinks, 'Oh, Mr. Doronin will put an Aman in every corner', just because I have developed a lot of buildings," he says. "I bought Aman because I understand the beauty of the brand. Do you know how many projects I refuse on a daily basis?"
CHANGING LANES
The expansion isn't the only thing that he's done differently. He also reconsidered the profile of the guests and their desires. The last few years have seen a major change in the food and beverage offering, with the introduction of in-house concepts such as the Nama Japanese restaurant and Arva, an Italian venue in China's Amanyangyun, Aman Venice and soon in New York.
"The average age of our guests today is 44, which is younger than before," Doronin says. "We welcome many clients in their twenties, and a sizeable group comes from the tech industry. While the younger generation respects the brand, they also demand something different."
Kids under 12 are not allowed in Aman's swimming pools. But family travel is seen as important by this demographic, a trend that will likely grow. Instead of changing the rules, Aman has chosen to build a separate kids' club at resorts such as Amanpuri in Phuket. "It's a no-brainer: when the child is happy, the parents are also happy. Then we have a return guest," he says.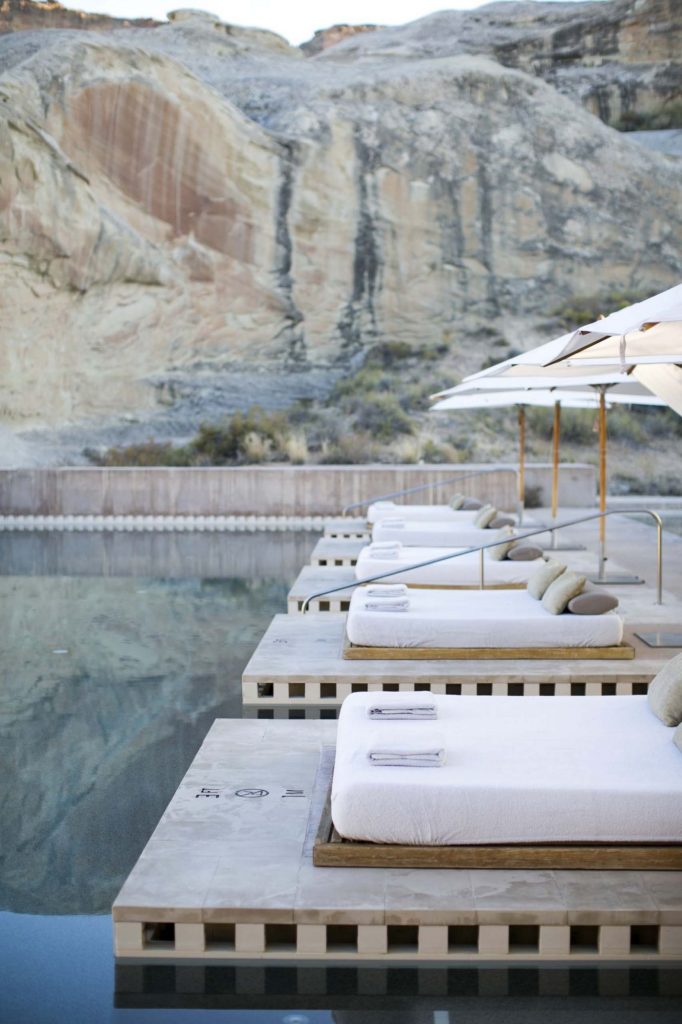 WELLNESS QUOTIENT
Wellness is another area where Aman is betting big, with programmes focused on increasing immunity and longevity. With a gruelling travel schedule that sees him splitting his time between Miami, New York, London and his plane, where he logs 800 flight hours annually, keeping in shape is important to Doronin. He travels with a physical trainer and has been using Chinese herbal medicine formulated by his family physician, Dr Ning Ma, for over three decades. "Everything I use for myself, I try to bring to Aman," he says. "I want to share."
The brand has long capitalised on its Asian roots by promoting ancient healing rituals alongside modern fitness technology to create the ultimate wellness experience. For Doronin, one of the most exciting additions is the Biofeedback testing and Inbody 570 body composition analyser machine.
He is one of the first to buy this technology, which is able to scan and capture every detail of the body in just 30 minutes. The findings will be used to develop a holistic programme customised for each guest, from the most suitable massage and exercise routine to the most effective diet, that will follow the individual to any Aman in the world.
Last year, the brand also launched its own line of supplements, Sva, following the release of Aman Skincare and fine fragrances. Dr Ma created what he calls an "anti-corona" herbal medicine, which Doronin gave to friends who started feeling unwell. The positive response expedited the development of Sva, and it is now available bottled and branded as Respiratory Support.
FUTURE PROOF
Developing hotels and properties, however, is still what drives Doronin. Their design has been entrusted to long-time Aman collaborators such as Kerry Hill and Jean-Michel Gathy, who created Aman Tokyo and Aman New York respectively. He is gradually widening the talent pool to include American architect Tom Kundig, who's designing projects in China and the Caribbean.
"We currently have 31 projects and I try to work with architects who understand us and luxury equally," Doronin says. Aside from having developed over 75 million sq ft of commercial and residential space at his first company, Capital Group, Doronin is also the only person in the world who lives in a private house created by the late architect Zaha Hadid.
"I'm building five developments right now in Miami, three of which are skyscrapers, and yet I focus more on Aman," he says. This extreme attention to detail is bearing fruit.
In 2020, four Aman properties, including Amanpulo and Amangiri, achieved higher revenue than the previous year. When we spoke, Doronin also disclosed he had just sold the penthouse of Aman Miami's residences for US$75 million, which he attributed to the strength of the brand and his reputation.
"I need a holiday," he says. With the world as his oyster, how and where would he choose to unwind? "I'm dreaming of kitesurfing in Amanpulo in the Philippines. It's the best place in the world for this. The first thing I will do after I open Aman New York is fly there."
Read the full interview with Kissa Castañeda at Asia Tatler.