Wall Street Journal: A Billionaire's $1.3 Billion Bet on New York's Iconic Crown Building
Vladislav Doronin says three penthouses at his Aman-branded project have sold for more than $325 million, despite a sluggish market and an oversupply of luxury condos
By Katherine Clarke | June 13, 2019 11:35 a.m. ET
Billionaire Vladislav Doronin already owns a full-floor apartment overlooking Central Park at the Time Warner Center. Nonetheless, he has got his eye on a $83.5 million spread less than a mile away.
It is in the Crown Building, a nearly 100-year-old tower on Fifth Avenue that Mr. Doronin's company is converting into condos.
"I have an apartment, but I am missing a fireplace and I'm missing a terrace," he explained. Plus, his new place will have a private pool.
If he buys it, his would be the latest deal signed at the building over the past year. Last year, an Asian buyer agreed to pay $180 million for the penthouse, a 12,536-square-foot, five-level apartment inside the building's glittering apex, Mr. Doronin said. The two units beneath, asking $72 million and $73 million, are both in contract to sell for more than their asking prices, he added.
The developer said these sales speak to the power of the building, its location near the southeast corner of Central Park and to the cultish following of his company Aman, which will operate a luxury hotel and service the homes. Located at 730 Fifth Avenue, the building is known for its green copper pinnacle that lights up at night with gold accents. Built in 1921, it has passed through the hands of owners like Philippine President Ferdinand Marcos and first lady Imelda Marcos as well as Bernard Spitzer and his son, former New York Gov. Eliot Spitzer.
The Aman project, comprising just 22 homes, is a significant gamble. Mr. Doronin's development company OKO Group is making a roughly $1.3 billion bet that the Aman brand, historically associated with sleek, minimalist hotels in secluded, far-flung destinations, will translate to big ticket sales in crowded urban markets. That gamble is compounded by a downturn in the New York market, which has been soft amid an oversupply of new condos and changes to the tax law that caps state and local deductions for buyers.
"I don't think any building at this price is going to be knocking it out of the park right now," said real-estate agent Leonard Steinberg of Compass.
Mr. Doronin said that he hopes the project is unusual enough that it will "fly above the clouds" in the New York market.
"We say 'If you don't take a risk, you don't drink champagne,'" he quipped.
As it does at its resorts, Aman is pitching an escape from the indignities of modern life. At the sales office earlier this month, staff served a green juice made from celery, mint leaf and cucumber, handed out warm hand towels and presented tiny colorful pastries organized in geometric patterns.
Ushered by Mr. Doronin, an employee scurried away to obtain a box of Aman's new branded skin care line, which includes products like amethyst bath and shower oil in veined marble-like bottles designed by Japanese architect Kengo Kuma. Mr. Kuma is one of the designers of a stadium that will be used for the 2020 Olympics in Tokyo, Mr. Doronin's publicist offered. The products are sold in the spa and online; a "grounding stem cell face and eye serum" retails for $96 plus tax.
Such emphasis on cutting edge architecture, a Zen atmosphere and lavish service helped engender the rise of the "Amanjunkie"—a deep-pocketed customer willing to pay an average of about $2,500 a night to recharge at Aman resorts around the world.
Founded in Thailand in 1988, Aman had already expanded to 26 locations before Mr. Doronin and his former partners purchased it for $358 million 2014, beating out the Carlyle Group and French luxury goods company LVMH Moet Hennessy . Past guests have included Mick Jagger, David Bowie, Mark Zuckerberg and Princess Diana, The Wall Street Journal reported. Aman's Venice location hosted George Clooney and Amal Alamuddin's 2014 wedding.
The company recently bought a large jet, and plans to roll out a new private plane service to shuttle guests to their retreats.
It is a social stratosphere where Mr. Doronin fits in easily. A onetime commodities trader turned real-estate developer, he calculated that he spent 798 hours on a plane last year shuttling between projects in Asia, London and the U.S.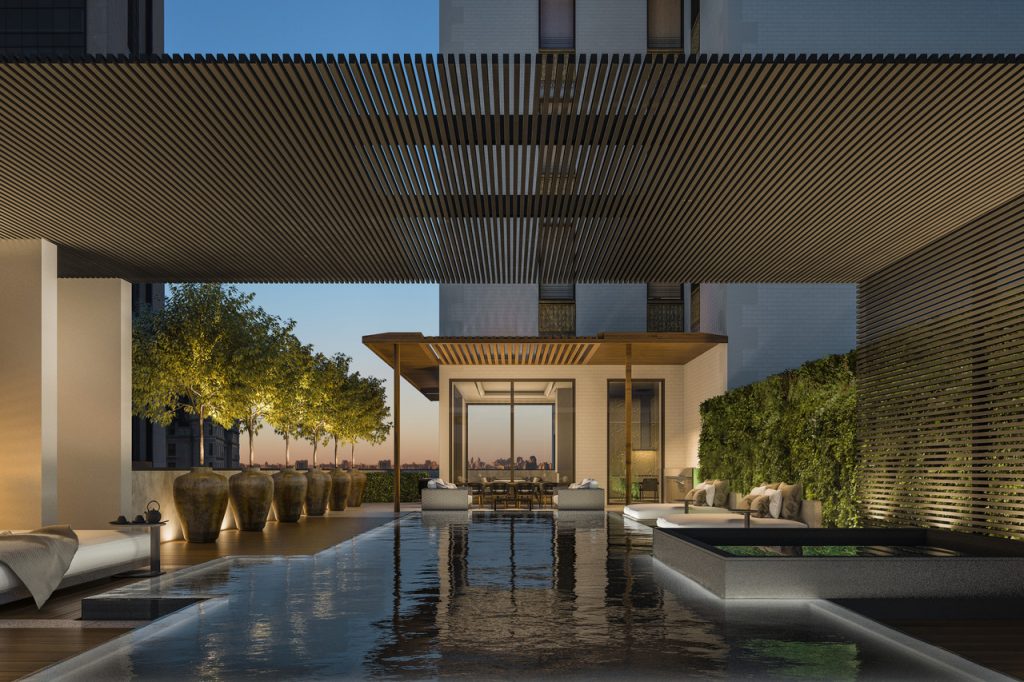 Mr. Doronin's homes include a 40,000-square-foot spaceship-style property outside Moscow designed by the late Pritzker Prize-winning architect Zaha Hadid. The property is the only single-family home Ms. Hadid ever designed.
Under the sleeve of Mr. Doronin's shirt is a wooden beaded bracelet, which he said is a reminder of his spiritual training with Geshe YongDong, a Tibetan Buddhist spiritual master and scholar who runs spiritual retreats in Aman resorts in southeast Asia.
Since his 2014 purchase Mr. Doronin has been working to expand his resort brand—known for locations like Bhutan and Indonesia—to high-rise urban hotels and residences in vertical landscapes. He has already opened an Aman hotel in Tokyo, and is eyeing locations in Paris and London, but the New York residences will be the first test of for-sale apartments in a major city. In addition to pitching the Aman brand, Mr. Doronin said his building offers a slice of "American history."
Originally known as the Heckscher Building after its original developer August Heckscher, the property was designed by Warren & Wetmore, the architecture firm behind Grand Central Terminal. When it was built, the tower was seen as a monument to the Beaux-Arts movement; 1,363 ounces of 23-karat gold leaf and Vicenza statues adorned the exterior, according to a marketing brochure from the period. At the time, it was the largest use of gold leaf known in the U.S. It served as the first home of the Museum of Modern Art from 1929 to 1932.
The Marcoses purchased the building through a web of shell companies for about $51 million in 1981, amid a New York property buying binge. Following the fall of Mr. Marcos's regime in 1986, the property became embroiled in litigation, with multiple parties claiming rights to it. They included a pair of real-estate developers, the Philippine government and Saudi arms dealer Adnan M. Khashoggi. Ultimately, they all agreed to split the proceeds of the $95 million sale in 1991.
The new owners included Bernard Spitzer, the real-estate magnate and father of Eliot Spitzer, the former New York Governor. After the older Spitzer died in 2014, the younger Spitzer took control of the building and he and his partners agreed to sell it for nearly $1.8 billion. A partnership led by Mr. Doronin's OKO Group bought the upper floors for around $475 million in 2015.
Mr. Doronin is aiming to draw buyers with a range of amenities even more elaborate than those of his competitors on "Billionaire's Row." Due to be completed next year, it includes the 83-room Aman hotel, a "sky lobby" with a wraparound terrace, a members club, a cigar bar, a piano bar, a "wine library," a subterranean members-only jazz club, and two other restaurants—a Mediterranean eatery called Arva and a Japanese one called Nama. A three-floor, 25,000-square-foot spa will have a 75-foot long pool, hot and cold plunge pools, fire pits, hammams, sauna and steam rooms, a salon, a juice bar and a gym.
The $180 million penthouse, a five-story unit built into the building's crown, has its own indoor and outdoor pools and a meditation suite built into the tower's cupola. It is slated to break the record for the priciest home ever sold in New York on a square foot basis at $14,358, Mr. Doronin said. The estimated first year of real estate taxes on the penthouse totals almost $360,000, according to the offering plan.
Still, Mr. Doronin has the majority of his apartments at the Crown Building—which range in price from $4.65 million to $83.5 million—left to sell. Last month, Mr. Doronin said the building is approaching the 50% sold mark, but declined to comment on exactly how many units had sold. Douglas Elliman Development Marketing is the listing agency on the project.
Real-estate agents said OKO's pitch is far more understated than that of competing buildings on Billionaire's Row, some of which have extravagant model units costing millions. For buyers unfamiliar with the Aman brand, that makes it harder to imagine the finished product, they said. Mr. Doronin said the process speaks to the exclusivity of the building; would-be buyers are vetted thoroughly before setting foot in the Aman office, and there is no unsolicited foot traffic.
Read the full article here: https://www.wsj.com/articles/a-russian-billionaires-1-3-billion-bet-on-new-yorks-iconic-crown-building-11560440111