Barron's: 20 Minutes With Chairman and CEO of Aman Vladislav Doronin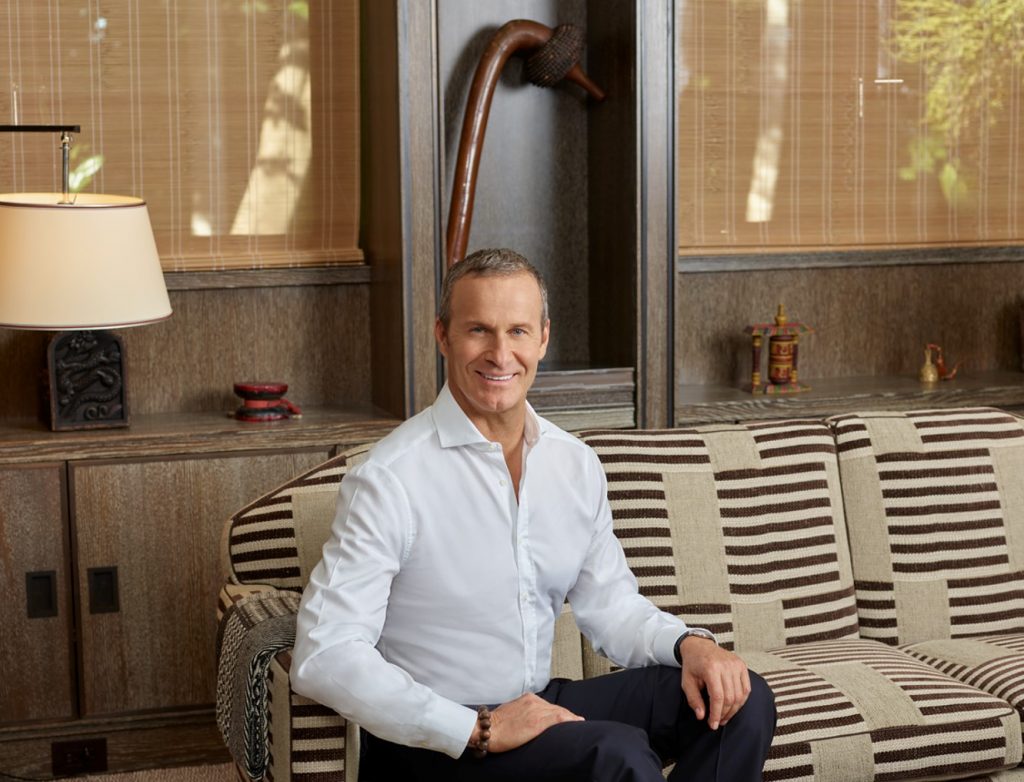 By Mareesa Nicosia | Feb. 3, 2020 12:01 pm ET
Vladislav Doronin was a self-described "Amanjunkie" long before he bought the luxury resort brand, popular worldwide for its wellness offerings and $1,500-plus per-night price tags.
In the 1990s, Doronin was a young commodities trader when he was first introduced to an Aman property, the Amanpuri resort in Thailand. "My first taste of the brand was unforgettable for its privacy and for allowing me to truly switch off," he says.
After that experience, whenever Doronin traveled, he would check to see if there was an Aman resort near his destination, even if it was a few hours away—he liked it so much, he would drive or catch a connecting flight to stay there.
The international businessman, 57, left the trading world and went on to build a real estate empire as founder of the Moscow-based development firm Capital Group, and as chairman and CEO of OKO Group, a U.S.-based real estate company. His portfolio includes 71 buildings and more than 75 million square feet of residential and commercial property in Europe, Asia, and the U.S. In 2014, Doronin bought his beloved Aman brand, becoming chairman and CEO.
These days, Doronin is forging into two new-to-him residential markets with projects in Miami and Manhattan, where luxury housing markets are soft amid an oversupply of new condos and changes to the tax law that cap state and local deductions for buyers. Doronin, for his part, seems undeterred.
You started your career as a commodities trader in Hong Kong. What led you to transition into real estate and the hospitality industry?
In 1993, after a few years as a commodities trader in Switzerland and Hong Kong, I was offered the opportunity to help a contact who worked at a large New York-based computer company (IBM), to build an office space for them in Moscow. At the time there was no central business district in the capital, and I had seen how other global cities had moved industrial buildings to the outskirts to minimize pollution and transformed the factories into office space.
I bought a factory and built my first office. I signed long-lease contracts and achieved the highest rent per-square-foot on the market. After that I continued to invest in real estate. In the beginning, I only developed offices and retail, and after a few years, I started to build residential and mixed-use buildings.
In the past I always thought it would be advantageous to have a brand provide services for luxury residential real estate but also to receive revenue as a hospitality business. There are many synergies between real estate developing and hospitality, and I saw a lot of untapped potential in the Aman brand, particularly with the residential offering: unparalleled service, design, and architecture as well as ultimate privacy and one of the world's most admired brands.
I understand you were an avid Aman traveler long before you purchased the entire company in 2014. From a business perspective, why did you make that decision?
My admiration for the brand was not the sole reason for purchasing Aman. It is also very hard to acquire a collection of resorts like this with 11 properties in UNESCO heritage sites. When Aman came to the market, I was already a fan of the brand, but I also wanted to diversify my portfolio. I was building in Miami and seeking development opportunities in New York, so I thought it would be beneficial to add an established brand to my portfolio. It was by chance that my favorite brand came to market, and fortunately I was able to move quickly to acquire it.
Your newest projects are bringing the Aman brand to major cities and, for the first time, they include condominium units. The current remodeling of the historic Crown Building on Fifth Avenue in New York City will include 22 private residences, for example. Describe your strategy for incorporating residential units into the established resort brand.
When building luxury residences, I had always known it would be beneficial to have an established brand providing services to residents at the same time as generating revenue as a hospitality business. So for every new urban Aman destination in the future, we will ensure a residential element is incorporated.
Aman New York will have 83 (hotel) suites and 22 unique, one- to- five-bedroom residences with access to all the Aman amenities and services, including a 25,000-square-foot, three-story spa with a 67-foot indoor swimming pool, a wine library, two exclusive on-site restaurants, a cigar club, and a jazz club. We also just announced the fourth Aman location in the U.S., a hotel with branded residences in Miami Beach, expected to open in 2023.
So far, what have been the biggest hurdles in transforming what you've described as a "horizontal," nature-immersed resort experience known to many into a "vertical," urban experience?
The biggest hurdle we have experienced so far is the cost of development. Building in a city is far more expensive and time-consuming. But we plan to replicate the achievements we have experienced with Aman Tokyo. It is one of our most successful properties and has won awards for its unique design and exceptional service. As a result, it experiences consistently high occupancy rates. It is so popular that my friends have to ask me to help them out with their reservations. I have sent friends to stay there and when I call and ask them, a few days into their stay, how they are enjoying Tokyo, they say, "We haven't left the hotel yet."
What essential ingredients can a traveler find consistently whether they're at an Aman property in the concrete jungle or near an actual jungle?
Each location will give every guest the feeling that they are in the home of a good friend. Guests can also expect a consistency of service across every location. Although every destination's design reflects the local culture and history of its location, it will still have the Zen-like DNA present throughout its aesthetic.
OKO Group has two non-resort condo developments currently in the works in Miami (Una Residences and Missoni Baia), and an office tower in the Brickell neighborhood, totaling a $1 billion investment. Miami, as you know, is saturated with luxury condo supply. Demand from international buyers, who traditionally account for a huge share of the residential real estate market, has slowed down. Why does the city appeal to you at this juncture and how do you approach these challenges?
Miami has transformed into a global hub in the last few years. This transformation coincided with the introduction of Art Basel Miami Beach in 2002, where for the first time Miami had global recognition as a sophisticated and cultured destination. Since then, it has continued to thrive and is one of the fastest growing cities in North America.
There are a number of attractive market conditions: It's a three-hour flight from New York and has direct flights to North America, Latin America, Europe, and elsewhere. With the federal tax policy changes that went into effect in 2018 and Florida having no state income tax, Miami has become increasingly desirable to individuals as well as companies. The tax changes are not just impacting the residential market; we have recently seen the migration of New York City- and- Connecticut-based hedge funds to Miami. The city's commercial landscape is transforming dramatically—in addition to the established financial services and law firms, there are increasingly also health-care tech companies and large international businesses.
Adding to that, the city and the beach both offer great quality of life with the warm weather and a healthy outdoor lifestyle. Personally, I have always felt happy and healthy in Miami. When I am not working, I like to relax on my boat and go out to Bimini in the Bahamas to enjoy some diving in the crystal blue water.
Read the full article here: https://www.barrons.com/articles/20-minutes-with-chairman-and-ceo-of-aman-resorts-vladislav-doronin-01580749299