Financial Times: The man who moved an ancient forest — to surround Shanghai's newest hotel
Threatened by a new dam, historic houses and 1,000-year-old trees have been transported 700km to create Aman's lavish resort
Claire Wrathall | NOVEMBER 24 2017
Back in the summer of 2002, Ma Dadong went back to the city of Fuzhou in Jiangxi province to see his parents. Then aged 29, the entrepreneur was looking forward to a weekend of lake swimming and "good spicy food" — the cooking in Jiangxi is even fierier than it is in Sichuan — but by the time he arrived, his mood was sombre. Construction had just begun on the Liao Fang reservoir. Thousands of ancient camphor trees were being cut down and several historic villages stood to be submerged, he tells me when we meet at his home in Maqiao, a suburb of Shanghai.
"In Shanghai people call something historic if it is 80 or 100 years old," he says. "Yet these buildings were 300, even 500 years old; some of the trees were 1,000 years old. They were precious. And they were just being destroyed." Dating back to the Ming and Qing dynasties, and elaborately decorated with carvings, they'd survived the iconoclasm of the Cultural Revolution, only to be threatened again. "It just made me so sad. I felt I had to do something, so I decided to move them. I hadn't thought what I would do with them. I had no idea how much money I would have to spend. I just made the decision to try."
Having started work early in life, when as a child he volunteered to clean up after the show at his local cinema in return for the right to sell popsicles to customers, Ma had recently sold the advertising agency he founded at 22 so had the funds to begin his huge relocation project. Fifteen years on, and now best known as the founder of investment management company Shanghai Gu Shan and Shanghai Gu Yin Real Estate, he has moved 10,000 trees and 50 buildings some 700km, from Jiangxi to the edge of Shanghai. On a site 27km south-west of the Bund, close to the Qizhong Forest Sports City Arena (where the ATP Masters tennis tournament is held), 26 of the houses and 1,150 of the trees now comprise Aman Resorts' newest hotel, Amanyangyun. Next month it will start to receive its first paying guests, ahead of an official opening on January 8 (a date chosen for its auspiciousness). I was invited to spend three days there last week, the first journalist to do so, during its "simulation" period.
Repeated requests to interview Ma had been refused, but finally he relented and agreed to meet me, admitting that had he known what it was going to involve, he might have baulked at the challenge. In order to transport the trees, some of them more than 20 metres tall, one with a trunk 2.32 metres in diameter, they needed to be trimmed of their branches and some of their roots, but even then a root ball could be several metres in diameter. Roads had to be lowered under bridges to allow the convoy of flatbed trucks to pass beneath them; a toll booth on a highway had to be taken down (and later rebuilt) so they could get past. Lorries overturned and were caught in flash floods. "Our team suffered a lot," he says.
The majority of the 8,000-plus trees that have survived, indeed thrived, currently stand on a plantation adjacent to Ma's house, and are due to be moved again in order to create a 20ha public park across an artificial lake from the Aman. Like the hotel's gardens, it has been designed by the London-based landscape designer Dan Pearson Studio, and will incorporate not just camphor forest, but also a range of habitats from wetland to woodland.
The houses, meanwhile, which had been dismantled brick by brick and beam by beam, each component logged and numbered, were warehoused in a former air-conditioner factory Ma was renting while he pondered what to do with them. In 2005, he "decided to rebuild one as a test" for himself — the house in which we are sitting — restructuring some of its walls to accommodate windows, though not the flat-fronted grey brick façade, and raising the ceilings. "In the past they were dark and uncomfortable," he says — without sanitation or heating. "And I didn't want to build a museum."
The idea of a hotel had occurred to him, but it was only on meeting Adrian Zecha, Aman's founder, that the project began to take shape. Aman Resorts was contracted to help develop and manage the property — though both parties refuse to reveal the details of the relationship. The result is an 18ha estate containing 13 "antique villas" each with four bedrooms split between the old house and a contemporary annex, and 24 new one-bedroom courtyard suites. There are also 12 antique houses for sale as serviced residences, these with vast basements containing Imax screening rooms, temperature-controlled wine cellars, gigantic safes-cum-panic rooms accessed by concealed spiral staircases that descend from the master suites and barrel-vaulted galleries that any art dealer would envy.
On the assumption that those with sufficient wealth to buy or stay in the antique villas need security and crave privacy, tall walls of pale grey striated granite surround each villa. So on arrival one's first impression of the architecture is its newness. It's only when you pass through your secure steel gate, and enter your serene and spacious garden, that — putting from your mind the presence of a 20-metre lap pool — you feel yourself drifting back to an imperial era. A zigzag path — the function of which, according to the principles of feng shui, is not just to get you from the gate to the door, but to focus your attention on the moment and the place — leads across a water garden, planted with lilies and shrouded mysteriously in mist (produced on demand by a machine integrated within the pond). Yangyun means "nurturing cloud", poetic references to which are imbued in the design.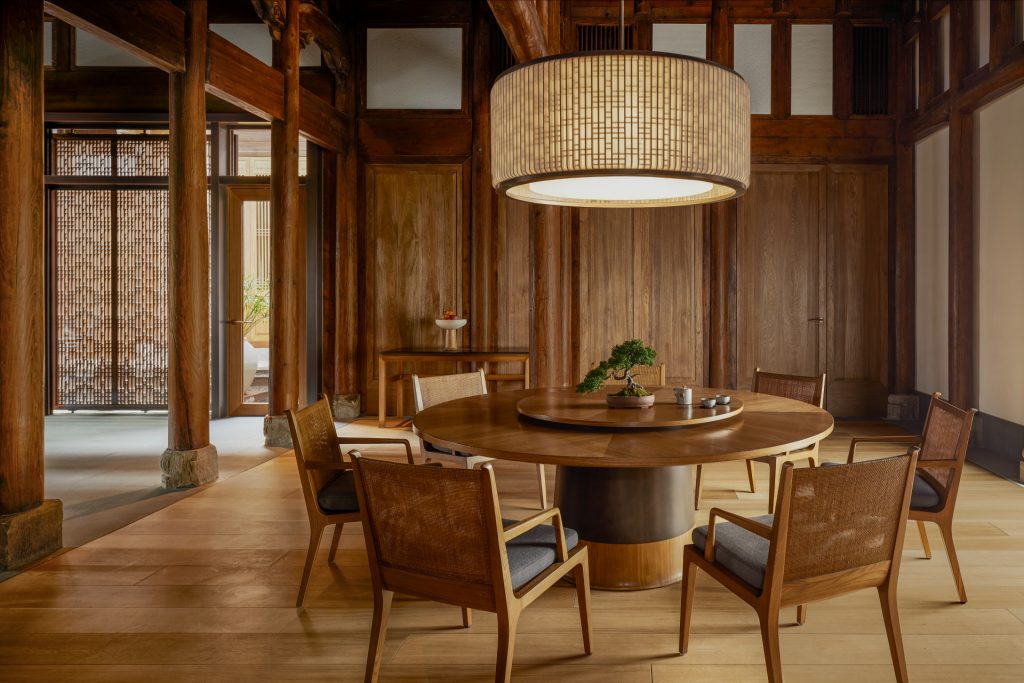 Each villa is constructed around two interior courtyards and is distinguished by original carvings relating to the families who once lived there, and in time a book will explain their histories. There are carved screens and lintels, as well as a decorative beamed roof supported by a forest of wooden columns that sit on carved stone plinths. The furnishings, however, are modern. The Australian practice and longtime Aman collaborator Kerry Hill Architects have opened up the main space and furnished it to designate areas for living, eating and work. It is evocative of Chinese style only in details such as the foot rest under the desk and the scholar's cabinets that I came to recognise as Ming-influenced.
During my three days at Amanyangyun, I learnt a lot about Chinese furniture and boxes with secret compartments and the sheer ingeniousness of mortise-and-tenon joinery. (One of the houses comprised 400 interlocking pieces of wood that, until the crucial peg that secured the entire structure was identified and removed, could not be taken apart.) My instructors were the staff of what they call the Nan Shufang, the cultural space that stands at the heart of the hotel in what was a 17th-century school, and arguably the most splendid of all the buildings Ma saved and brought here.
It is named after the South Study established by the Emperor Kangxi in the Forbidden City in 1659 as a centre for scholars and offers instruction in a number of subjects from the appreciation and ceremonial preparation of different teas to playing the guqin, the zither-like stringed instrument favoured by sages.
I spent a captivating hour with a master of calligraphy, trying to perfect a single character with a soft pointed brush dipped in ink I had made by rubbing an inkstone into a few drops of water. I can now understand why so many Chinese, including Ma, practise calligraphy as a kind of meditation. By focusing so completely on an essentially physical but still cerebral task, your mind is emptied of other thoughts.
Earlier, the importance of incense in scholarly culture, and the calming ritual of its preparation, had been explained and demonstrated to me. You tamp down the white ash in which it burns, then shape the incense into a symbol, by means of a mould. The rate at which it burns can then be used to measure time, like a fragrant hourglass.
Below the Nan Shufang is an exhibition space showcasing Ming furniture from Nanmu Studio, another of Ma's ventures, with branches in Shanghai's Xintiandi district as well as Beijing. It recreates exquisitely crafted pieces using reclaimed nanmu or golden-silk wood, from the now almost extinct tree that was used to build the Forbidden City.
Again his supply was salvaged from "old houses in the many villages that were being submerged to make another dam", this time in Sichuan. That the towering lobby of the hotel is lined in fretwork panels of this precious wood — which shimmers like gold in sunlight — signals the investment lavished on this project.
Of course it has all the usual attributes of an Aman: a huge spa (with a Russian banya, in deference to the company's current owner, Vladislav Doronin); two swimming pools; three restaurants, all of which I enjoyed, serving Italian, Japanese and Jiangxi cooking, the latter with an emphasis on offal and poultry, though in time they hope to be able to source fish from the reservoir that made this whole project possible.
There are 284 staff — an extraordinary number, given that there are only 77 bedrooms, but each villa is served by a round-the-clock team of omnipresent though enchanting butlers. All but 10 are Chinese, as the majority of guests are expected to be.
But what really sets it apart from anywhere I have ever been is its mission to educate by inviting and feeding curiosity (even its kids' club is called the Discovery Centre). "I don't know why, but I just love old things," Ma, now a boyish 44, tells me. "Old houses, old trees, old wood. I find Chinese culture and history very interesting, and I want other people to understand and enjoy it, too. I want the hotel to have depth and flavour. When I decided to move the trees, I didn't realise it would change my whole life, but this is my life's work. By taking care of them, the trees and the antique houses have brought a lot of interesting people into my life. The hotel will bring more."
Read the full article: https://www.ft.com/content/397e2660-ced7-11e7-947e-f1ea5435bcc7