Miami Herald: Why Vlad Doronin and Jonathan Goldstein are betting billions on Miami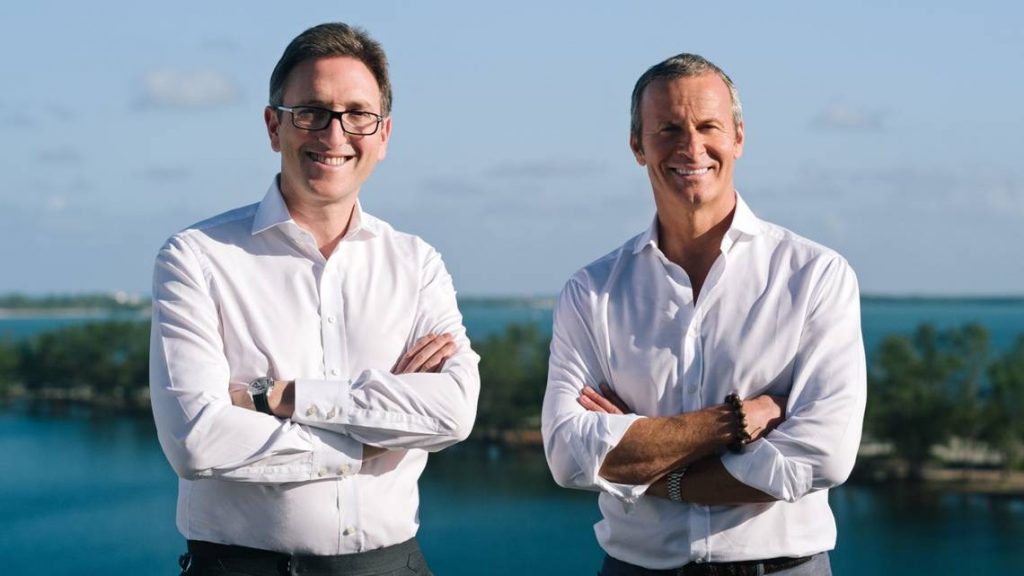 MIAMI (Miami Herald) – How quickly things change.
Nine months ago, most Miami offices remained shuttered. The luxury condo market was stalled, reeling from the double-whammy of a pre-pandemic glut and a collective case of mid-pandemic high-rise cabin fever. Even the region's famously resilient tourism economy was swamped by the lowest occupancy rates since the 9/11 terrorist attacks.
Russian-born developer Vladislav Doronin had reason for concern — at least in the eyes of local real estate watchers. The most ambitious office building in recent memory was under construction at 830 Brickell, a 57-story tower by renowned architects Adrian Smith + Gordon Gill, designers of Dubai's Burj Khalifa. Sales at 249-unit Missoni Baia in Edgewater and 35-unit Una Residences near the Rickenbacker Causeway were, by most accounts, at a standstill. Doronin's Miami-based company, OKO, was mired in the vigorous Miami Beach historic-and-design review processes for a hotel-condo project with the Aman brand — one of the most luxurious names in hospitality and owned by Doronin.
With more three major projects then underway, in June 2020 Doronin's OKO Group spent $62.6 million for 6.7 acres in downtown Fort Lauderdale.
Now, in 2021, Doronin and Cain International CEO Jonathan Goldstein, OKO's partner in three of these projects, look downright prescient.
Sales are soaring at the two downtown Miami condo projects being co-developed by OKO and Cain. In January alone, says Doronin, OKO booked almost $60 million in sales in Una, where units start at $2 million. At the 57-story bayfront Missoni Baia in Edgewater, the Italian fashion house's first branded residential tower with units from $600,000, OKO's sales team booked about $18 million.
"January is usually an OK month," Doronin said. "Now, we're on fire." Since the influx began this year, he's raised prices by about 5%, he said.
Cain and OKO also are partners in 830 Brickell, where the asking price for the best spaces is above $70 per square foot — well over the average Brickell Class A market rate of about $58 per square foot, according to the JLL fourth quarter commercial report.
In addition, OKO has received key approvals for its Aman Miami hotel and residences, co-owned by British billionaire Len Blavatnik.
Goldstein also has another Miami project in the works. Eldridge, a Connecticut based company that is co-owned by Goldstein, recently purchased the storied Delano hotel. Goldstein estimated Cain's Miami projects at around $2 billion.
Doronin has had a home on Star Island for several years. Goldstein lives in England has visited Florida frequently.
The Miami Herald spoke separately with Doronin and Goldstein about their Miami real estate investments and the county's future.

Miami Herald: What is driving the sudden hunger for Miami's residential real estate?
Doronin: First of all, it's a tax situation. It's important for people with these incomes. Now also people are coming because Miami has a nice style of living, not only because of the weather but you can live a normal life here. Many people are sick and tired from what has happened [with the pandemic.] Everyone wants to enjoy life, to go to restaurants, walk on the street, go on the beach. Third, to do business here is much easier than in New York. The government here is pro business. They're not against you, so you can have a dialogue.
Goldstein: When Zika came in and then we had a season of hurricanes, people asked 'What are you doing? Why are you there?' Our medium-term view of Miami has put us in the right place at a good time….Look at the migration of people all over the world into Miami. When [co-founder] Todd Boehly and I set up Cain, we had a very simple philosophy. We like to invest in gateway cities. If you look at vast majority of our investments, they are in New York, Boston, Los Angeles, Madrid, London and Miami. I obviously have a lot of respect for Vlad and admiration for what he has done. Miami has been undervalued in terms of the rest of the world. And it has a taxation environment that most people would find desirable.
When I came down with Vlad to look at the locations we now have under development — you can't not fall in love with them. It's not possible to replicate the type of views and locations we're developing.
MH: We keep hearing about migration from New York, Chicago and California. Does that jive with what you're seeing?
Doronin: Before [the pandemic,] it was mainly South Americans and Europeans. Now I have lots from New York, California Chicago. And from the Midwest, from Michigan. Canadians are also very active. And we still have Mexicans.
MH: Your office building, 830 Brickell, is on track for delivery in 2022, which will bring 640,000 square feet of Class A office space to Brickell. Right now, many companies are still operating remotely, and some experts predict that when firms do return to offices, firms will take less space and stagger in-office hours. Yet you're charging premium rates. Is anyone interested?
Doronin: We have a lot of clients who closing deals. People arrive, they buy houses and apartments, and then they want to invest in Miami because they see positive growth. (An OKO spokesperson said WeWork has signed for more than 100,000 square feet. 830 has received formal letters of interest for an additional 300,000 square feet in the building.) I believe in camaraderie and energy. Office space is about energy. In Zoom I can get 50% of the business closed; in person it's 90%. …I want a handshake; I want to close the deal. If you want prestige, you have to have your office in Brickell. It's the financial center of Miami, with lot of shops and lot of restaurants…If someone wants to take a boat out in the morning and then go to the office, it's an easy life, a healthy life.
Goldstein: I think you're going to find two years from now that while more people will be given more flexiblity and trust, office space will be as important and more important than before. Blackstone and Microsoft are looking for space in the area…one of the mistakes tech companies made is that they were not located in areas where great talent wishes to live. Now they are seeing that great talent wants to be in Miami.
I don't believe you build great companies in your front room. I don't think you develop as a human being through Zoom…I don't think you have great ideas over Zoom. I believe the great ideas develop at the coffee point or over cocktails.
MH: Some locals who have seen migration waves in the past are concerned that the newcomers will stay a few years and then move on. What's your view?
Goldstein: We believe the trend will continue when we emerge from COVID. Who isn't going to want outdoor space in a warm place?
Miami has every box ticked: the quality of residential real estate, entertainment, sports, business. The only thing historically it did haven't have the best of air connectivity to Asia. There's no direct service. And the airport could do with a bit of a makeover, though that is underway.
I would bet that the change that is currently happening ultimately will show itself to be permanent. Ultimately you have to succeed at the expense of New York or LA; there's enough capacity in the system. Miami will grow to a position that will absolutely begin to rival those other cities. It won't be seen as a second position, it will be one of the premier cities in America.
Doronin: The migration is just beginning. Those who are very clever are coming right now…these people who see the future are moving aggressively. The second and third waves are coming and coming.
The price in Miami is still lower than in New York. At Missonia Baia you get five pools, a gym and even a spa for pets. There's a tennis court. You can't get that in New York. I don't see they are going to lower taxes in California and New York. This is only going to attract more people.
MH: You just received key approvals from the Miami Beach Historic Preservation Board to renovate the Versailles Hotel as part of your Aman condo-hotel project. What kind of demand do you anticipate?
Doronin: We have a list already of people who want to buy. Some are what I call Aman junkies. Then there other friends who have called me. Some are people who are already here and want to move. They are calling and saying 'we want to reserve.' One of them wanted a penthouse. I never had a response like this … I don't even have marketing materials yet."
MH: Climate change is a major issue for Miami. Your buildings are on the water. Are rising seas an obstacle for potential buyers?
Goldstein: You can't ignore climate change. [Efforts] have to be led by the government. Ultimately we have to treat the world we live in with care. I think its something we should all treat seriously.
Doronin: We've been talking about climate change for 20 years already. … In reality people don't care. Everybody wants to be as close as possible to the water.
MH: So what are Miami's major challenges now?
Doronin: One thing is they need to build more [high quality] schools. They have some good schools, but Miami needs more [preparatory] schools. I am thinking about building an Aman school, not for money but to help the community.
Read the full article: https://www.miamiherald.com/news/business/real-estate-news/article249094015.html