Wall Street Journal: Office development in Miami has reached its highest level since 2009 thanks in part to tenants relocating from high-tax states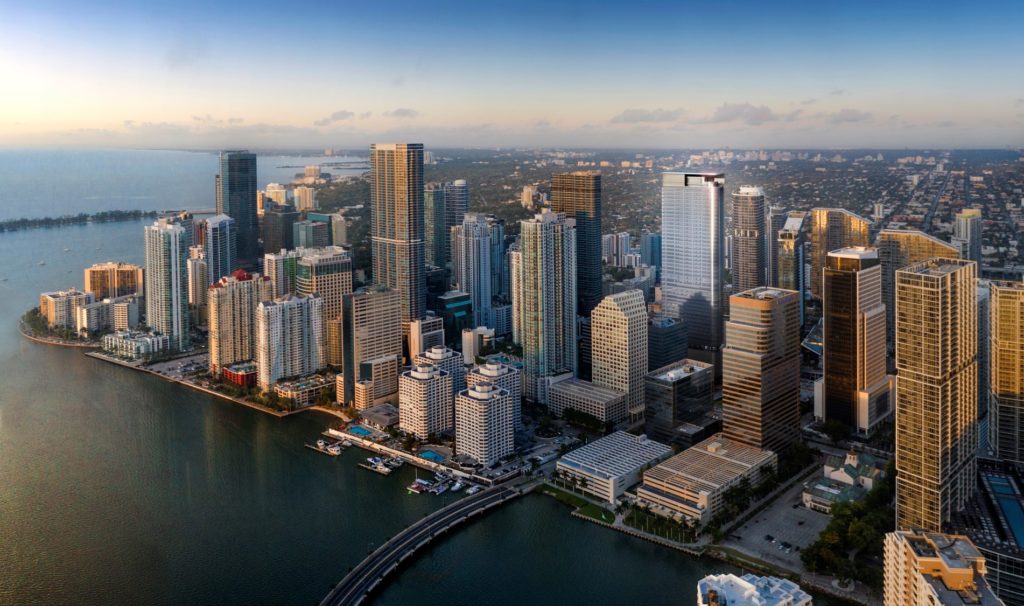 Asking rents for office space in Miami have grown 26% between the second quarter of 2014 and June of this year.
By Keiko Morris Sept. 3, 2019 7:00 am ET
Like office-building developers in many U.S. cities, those in Miami have shown restraint during the financial recovery, adding new space at a modest pace.
But now the Miami office-development engine is chugging into gear as developers hope to cash in on the rise in occupancy and rents over the past five years. Demand for space is being fueled by corporations expanding their Latin American trade operations, growing tech companies, law firms and high-earning newcomers escaping high-tax states.
Office-building development in the Miami area has reached its highest level since 2009 with 1.9 million square feet expected to be completed over the next two years, according to real-estate services firm CBRE Group Inc. By comparison, less than 500,000 square feet was in the pipeline in 2011.
With Hurricane Dorian this week expected to come dangerously close to Florida, Miami received a reminder of the threat violent storms pose to it. But real-estate industry executives note that Miami has the highest building standards in the country.
After Hurricane Irma, the business district quickly drained water from the storm surge thanks partly to elevated streets, pumps and other systems. "It's all a matter of preparation," said Christos Costandinides, director of analytics for real-estate data firm CoStar Group Inc.
Rendering of 830 Brickell, which is under construction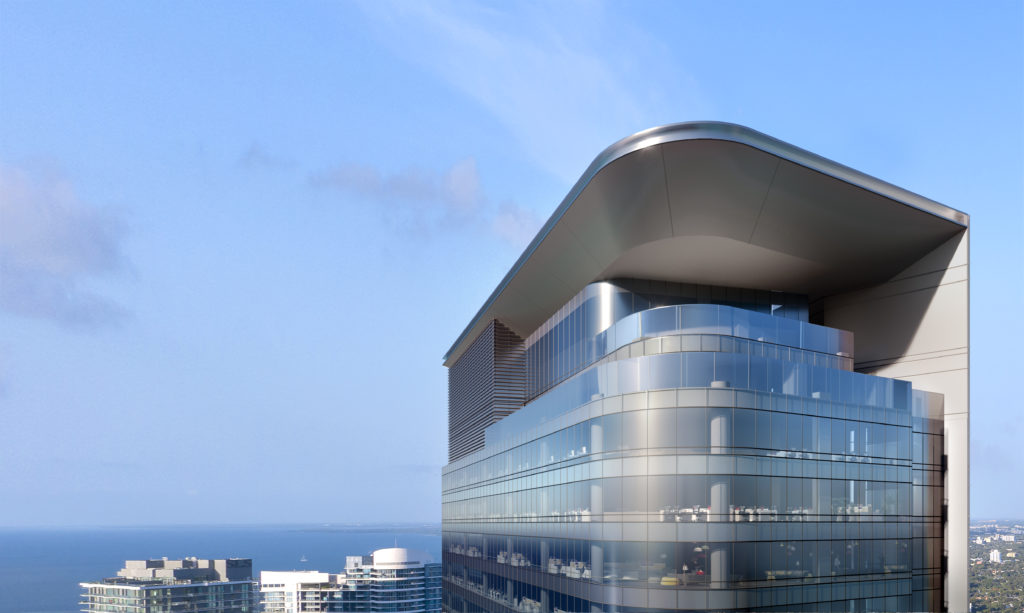 PHOTO: OKO GROUP
Miami's increase in office development has come late compared with other markets like New York, San Francisco, Seattle and Boston, where office construction levels have been higher than the rest of the country for several years, real-estate analysts said. The amount of space under construction in Miami is equal to about 2.7% of its current office inventory, according to CoStar. For the U.S., that figure is 1.9%.
New development at this stage in the economic cycle tends to be riskier than at earlier stages because a recession, which many say becomes more likely as the cycle ages, would sharply erode demand. But at this point, Miami landlords say they aren't concerned, partly because leasing remains strong.
More than half of the office space under construction in Miami is leased, according to Mr. Costandinides. "Those [deals] are promising signs you would not see in an economy where there is overconstruction," he said.
Asking rents for office space in Miami have grown 26% between the second quarter of 2014 and June of this year, and vacancy rates have dropped from 11.8% to 8.8% in that same period, according to CoStar.
Employment in Miami's hot technology sector has grown about 40% between 2012 and 2018, reaching 11,440 jobs, according to labor data firm Emsi. The Emsi figures were provided by the Miami-Dade Beacon Council. Trade and logistics employment grew by 24% to 41,417 jobs in that period. Banking and finance jobs rose 7% to 40,557.
Silicon Valley firms are "looking for low-tax places that have a high quality of life with a business environment," said Theodore Ward, chief of staff at Mana Group, which has purchased more than 50 properties in Miami's Flagler Street area that it plans to upgrade partly to appeal to tech tenants.
Florida's attractive tax laws, meanwhile, have attracted firms from the northeast and high-tax states elsewhere. The appeal got even greater in the wake of the Trump administration's 2017 tax reform that capped federal deductions for state and local taxes, raising taxes on high earners in high-tax states. Florida has no state income tax.
In one high-profile deal, investment firm Starwood Capital Group switched its headquarters from Greenwich, Conn., to Miami Beach in 2016. A company spokesman attributed the move to "commercial and employment considerations" as well as the public company it manages having a large presence there. Starwood still has offices in Greenwich.
"Generally the upper-level management and key decision makers at a private-equity fund or a hedge fund, that person historically has had a second home somewhere in South Florida," said Scott Wadler, a senior director at real-estate services firm JLL.
Much of the 260,000 square feet of office space in Brickell City Centre, a mixed-use complex completed about three years ago by Swire Properties Ltd. and partners, has been leased, including tenants such as We Co. and McKinsey & Co., according to CoStar.
Other developers want to repeat successes like this. A few years ago, developers OKO Group and Cain International bought a site in Miami's hot Brickell neighborhood intending to build a residential project, said Vladislav Doronin, head of OKO and a founder of one of Russia's biggest real-estate development firms Capital Group. But the joint venture changed plans.
The partners are now building a sleek 57-story glass office tower named 830 Brickell. Expected to be one of the tallest office towers built in a decade, the 614,000-square-foot skyscraper will house a rooftop bar and restaurant when it opens in 2022.
Read the full article: https://www.wsj.com/articles/miami-office-developers-step-on-the-gas-11567508400