Nianne-Lynn Hendricks interviews Vladislav Doronin for the Bangkok Post
'Blown away' by his first encounter with Amanpuri in Phuket, Vladislav Doronin later acquired the storied luxury resort business and is extending the brand into urban retreats and skin care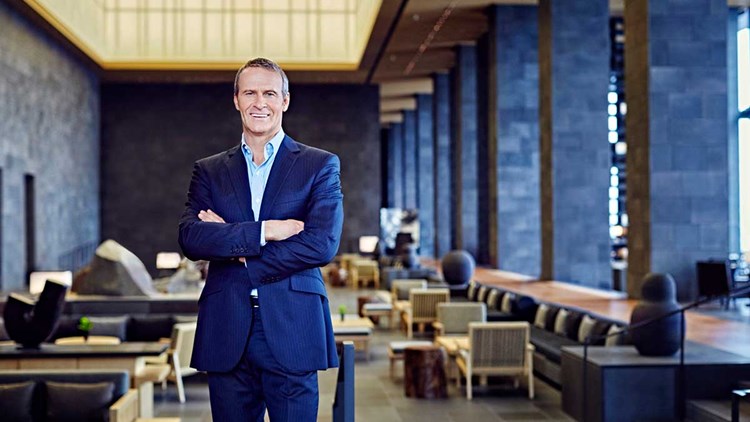 WRITER: NIANNE-LYNN HENDRICKS
"I could see many synergies between real estate development and hospitality, as well as seeing a lot of unrealised potential in the Aman brand" – Vladislav Doronin
Vladislav Doronin is no stranger to the business world. The chairman and CEO of OKO Group, a US-based real estate company, and founder of Capital Group is also owner and chairman of the super-luxury Aman, a chain of resorts known for impeccable service and detail-oriented design.
Born in Russia in 1962, Mr Doronin is known for his audacious business moves and keen eye for prime real estate around the globe, and for being a fitness fanatic.
After first visiting Amanpuri in Phuket in the early 1990s, Mr Doronin was "blown away" by the luxury resort. "At Amanpuri, I was so impressed by the beauty of the destination, the design of the property, its outstanding views and its ultimate privacy," he says.
"After my first visit, I was keen to visit as many other Aman destinations as possible and planned trips whenever a new Aman opened. I quickly became an 'Amanjunkie'. Years later I was offered the opportunity to buy the brand. "As a real estate developer, I had built 75 million square feet in more than 71 commercial and residential buildings. I could see many synergies between real estate development and hospitality, as well as seeing a lot of unrealised potential in the Aman brand." 
So impressed was he that he ended up acquiring the luxury brand, with 33 destinations in 21 countries representing a very strong platform to build from. One of Mr Doronin's major strategic goals is to bring some of the Aman magic into major cities, creating urban sanctuaries.
Aman is known for offering a "peaceful" gateway to a holistic lifestyle, which transforms the mind, body and spirit — a philosophy that Mr Doronin shares. Given the fast pace of our modern, ever-connected society, the experiences offered at Aman properties are more relevant today than they have ever been, he believes.
CELEBRATING THE 'PEARL'
Marking Aman's 30th anniversary, the flagship Amanpuri continues to capture the imagination of guests three decades on. To mark the occasion, the resort underwent a thorough enhancement, upgrading original aspects including the Aman Spa, while six suspended swimming pools were added to six of the guest pavilions. Other upgrades included new spa facilities and watersports equipment, a children's Eco-Discovery Club, a beach bar and an activity space for all ages called The Hot Spot.
Mr Doronin stresses that Amanpuri is a place of peace, an oasis of sorts amid a frenetic society. With more and more urbanites chasing serenity, this is an appeal that can hardly be argued. 
Aman was the inventor of the luxury hideaway resort concept, with an innovative approach to travel where the experience of guests takes centre stage. "We have improved our spas, expanded our wellness offering and introduced holistic spas throughout a majority of our destinations to reflect the needs of our guests," he says.
As well as expanding its global portfolio of hotels, Aman has developed and launched new culinary concepts in several global destinations: Nama which celebrates washoku, the food of Japan serving uncomplicated and elegant dishes; Arva, which serves bold, heartwarming dishes, alive with flavour and inspired by the warmth of Italy; and a new restaurant at Aman Tokyo: Musashi by Aman, led by master chef Musashi, serving the highest quality sushi paired with specially selected sakes and wines.
PEACEFUL WELLNESS
Mr Doronin's passion for wellness and fitness is reflected in all the Aman resorts and last year he launched Aman Skincare, a range that took two years to develop.
"We created an entirely bespoke range of skincare products, which represent our holistic spa treatments offered globally at the spas across our portfolio with organic ingredients inspired from the varying landscapes and regions of Aman destinations," he says.
His friend, the renowned architect Kengo Kuma, designed the "vessels" for the range in a nod to Aman's zen-inspired design aesthetic. 
Why is wellness, a much-overused term in the spa scene, so important to a man who is ranked among "The Most Powerful Businessmen in the World" by World Finance magazine?
"Health and wellness have become increasingly significant as lifespans increase and we live much longer into old age. We are becoming more concerned with living a healthy, higher quality of life," explains Mr Doronin.
"As a result, we have noticed guests of all ages seek healthy alternatives and ways to keep active; holistic experiences, spiritual retreats, weight-loss programmes, wellness retreats and immersions have become more relevant to our guests than ever before as part of their experience."
He sees and feels the need to cater to guests who want more than just a massage or facials; guests who are looking for transformative experiences. At the flagship wellness centre at Amanpuri, an integrated medical wellness programme is overseen by a medical doctor and qualified professional wellness experts.
EXCLUSIVE CLUB
But the businessman and self-confessed "Amanjunkie" — a nickname used by fans and clients of the brand — knows that there is great appeal in being part of what is seen as a pretty exclusive. After all, a night at Amanpuri starts at around US$800 and can climb well into four digits. 
"We also see a younger generation of Amanjunkies growing; in 2017 the average age of our guests was 44. This is partly due to generations of Amanjunkies bringing their children to Aman destinations," he says. "Now these children have grown older and are bringing their own children to Aman destinations as their parents had done before." 
So he believes he is creating much more than just a brand, he is creating family memories where people can recuperate, relax, escape from stress and recharge their batteries.
Wellness aside, once a real estate mogul, always a real estate mogul, as Mr Doronin's acquisitions of properties around the world for Aman demonstrate.
"We have an uncompromising attitude to selecting destinations for future Aman hotels and resorts," he says. "If we cannot have the best location we would rather wait until it is available.
"Nine of our destinations are located in Unesco heritage sites: Amandayan, Amanfayun and Aman Summer Palace in China; Amangalla in Sri Lanka; Amantaka in Laos; Amansara in Cambodia; Amanjiwo in Indonesia; Aman Sveti Stefan in Montenegro and Aman Venice in Italy. We have even more resorts located next to or within protected parks."
In 2017, Aman announced a pipeline of new destinations globally, including its second urban hotel, set to open in 2020 in New York at the iconic Crown building, located in the heart of Manhattan on the corner of Fifth Avenue and 57th Street. Its first destination in Mexico will be Amanvari on the east cape of the Baja Peninsula on the calm shores of the Sea of Cortes.
Mr Doronin is not only making moves on land. In 2017, he took to the skies with the launch of the highly successful Aman Private Jet Expeditions, including a Pan-Asia tour or a round-the-world expedition. The 22-day journey combines exploration and relaxation visiting Aman destinations in Europe and Asia, including Aman Tokyo, Amanyangyun in China, Amanoi in Vietnam, Amanpuri, Amankora in Bhutan, Amanbagh in India, Amanzoe in Greece, Aman Sveti Stefan in Montenegro and Aman Venice.
CONQUERING THE WORLD
For every new Aman destination in the future, Mr Doronin plans to ensure a residential element is incorporated — the villas at Amanpuri setting the bar for luxury residencesworldwide. "We anticipate the arrival of Aman New York in 2020, which, along with its 83 suites, will bring to the market just 20 one-of-a-kind, one- to five-bedroom private residences."
New York isn't the only city in the US where Mr Doronin is making his presence felt. He is currently on the lookout for the right site for an Aman in Miami, due to the city's growth, expanding international investment and a flourishing tourist trade from around the world.
"My real estate company, OKO Group, is headquartered in Miami where we are developing several luxury residential towers, so we know the city very well. Miami has become increasingly sophisticated and an Aman would fit well in this gateway city with easy access to North America, South and Central America, as well as Europe and the rest of the world."
Mr Doronin is no stranger to constant change and Aman is also adapting to include luxurious apartments in urban areas. When Aman Tokyo opened in 2014, it set the standard for future urban hotels.
"We plan to replicate the success we have had with Aman Tokyo. In urban destinations, we will take the approach we have had in our 'horizontal' resorts translating it into a 'vertical' setting," says Mr Doronin.
Aman Tokyo does not offer a residential component but all future Aman destinations will include private residences. Aman New York includes 20 unique residences, a one-of-a-kind penthouse, spread over five floors at the building's pinnacle, has expansive terraces offering sweeping views over Central Park, with its own private indoor and outdoor swimming pools. And it doesn't stop there.
"We will also include three exclusive restaurants at Aman New York, one of which will be Nama, our recently launched Japanese culinary concept. We will include a Wine Library and a subterranean Jazz Club, which will reflect the vibrant energy of the city. Aman New York will feel like an exclusive Aman club." A perfect fit for Amanjunkies. 
Since the land and the sky are hardly the limit for the founder of Capital Group, where is Mr Doronin going next with Aman? "The Aman of tomorrow will stay true to the foundations of the brand created 30 years ago in Thailand," he says.
"Aman will always offer unparalleled privacy and unmatched service in destinations of outstanding beauty. We will continue to thoughtfully evolve the brand, expanding into cities and will continue our meticulous search for the best destinations in which to launch hotels and resorts. Within the pipeline of hotels and resorts we recently announced we are looking for locations in London, Paris, Hong Kong and Singapore."
Read the full article here: https://www.bangkokpost.com/business/news/1606666/lap-of-luxury
© Bangkok Post Public Company Limited