Telegraph Ultratravel: Aman on a mission: Aman CEO Vladislav Doronin on life, luxury and his plans of Aman New York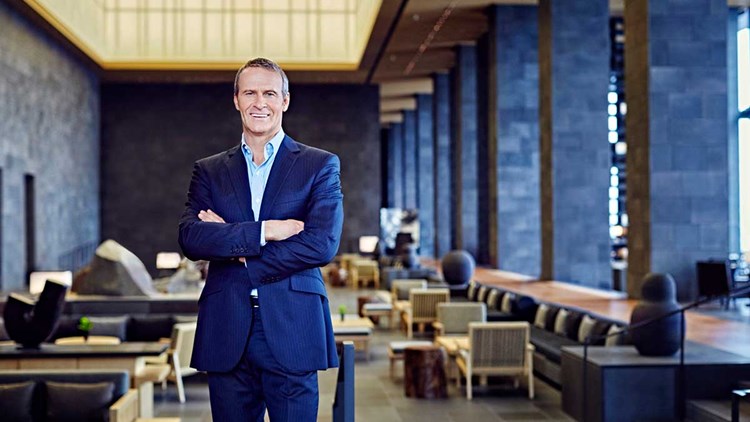 By Nicole Mowbray | 20 MARCH 2019
Vladislav Doronin is a very busy man. It takes five months of planning before he can find 30 minutes in his diary for our meeting in London, and even then it is moved three further times, including on the day.
But then, 56-year-old Russian billionaire 'Vlad' is a man wearing many hats. He's the chairman and CEO of US-based property-development business OKO Group (which has completed 71 high-end residential projects including Moscow's OKO tower, which at 354m is higher than London's Shard); the founder of Russia's real-estate business Capital Group; not to mention the role for which we know him best: chairman and CEO of the Aman.
The former commodities trader turned property tycoon confesses to being a so-called 'Aman junkie' long before he bought the group in 2014. The portfolio currently features 34 hotels in 21 countries – from Amankila in Bali to Amangiri in Utah. Nine of the properties are on Unesco World Heritage Sites, and there are many more to come, including outposts in London, Paris, Milan, Los Angeles and Hong Kong.
Amanpuri in Phuket, the original Aman resort
Aman was established in 1988 in Phuket, Thailand, when Zecha's dream of building a private holiday home rather spiralled. Now the group's properties are the first port of call for ultra-high-net-worth individuals (UHNWIs) seeking ultimate privacy – Bill Gates, Mark Zuckerberg, Leonardo DiCaprio – not to mention Doronin himself, whose fortune is estimated by some media reports at £1.6 billion.
It hasn't always been this way. Mr Doronin was born near St Petersburg, in what he calls 'horse country', in November 1962. He wanted to travel for 'a long time' before it was within his reach.
City hotels are a major focus for Aman at present. Next year sees the opening of the group's first New York property, at the gilt-embellished Crown Building on the corner of 57th Street and Fifth Avenue, on the doorstep of Central Park. Doronin reportedly spent $500m to secure floors four to 24 in 2015 (the lower floors are retail), for both a hotel and serviced apartments – a first for the brand. It's a project which Doronin is clearly excited about.
'New York opens in 2020 and it's a very special project,' he says. 'It's iconic, there are few buildings from that time in New York [the building dates from 1921] and you cannot easily buy them, so I feel lucky.'
Is he taking the much-written-about 14,000 sq ft, five-storey, $180m penthouse, I ask?
A rendering of the forthcoming Aman New York
He laughs. 'I would have loved to, but there was a buyer. There was more than one buyer,' he says. 'There were people queueing up for it. So it's sold [reports say to a secret European investor]. And 50 per cent of the other apartments are sold too, without any advertising, just by word of mouth. I wish we had held out, because we could have sold it for more.'
Doronin tells me the five-storey penthouse has a private elevator from the lobby and an elevator inside the apartment. There's a 20m pool on the terrace and a second 15m indoor pool in a dome on the top floor. It also has a private spa and, as with all the apartments, access to all the hotel's facilities, including a mammoth 25,000 sq ft spa, Italian and Japanese restaurants, a jazz club and members-only cigar bar.
'It is fully serviced by the hotel. So when you call the staff in the building from your plane and say, "Listen, I need to organise dinner for 8pm," it will be done when you arrive, and served perfectly in your apartment,' Doronin says. 'There are only 20 apartments – it's nothing. Other smaller developments would have more than 100 properties in this space. You're not often going to see your neighbour and so, again, we bring what Aman is known for: complete privacy.'
The late Zaha Hadid famously designed her only private residence for Doronin, conceived on a napkin over lunch. The breathtaking Star Wars confection teeters high above the 100ft treetops in the prestigious rural Rublyovka district outside Moscow.
As ever, privacy was Doronin's number-one stipulation and fittingly, the property comes with its own spa, nightclub and pool.
Read the article in full here: ttps://www.telegraph.co.uk/luxury/travel/aman-resorts-ceo-vladislav-doronin-life-luxury-plans-aman-new/